Four Reasons for the Deformation of Sheet Metal Parts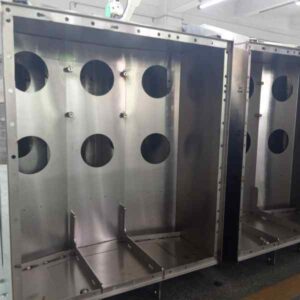 As we all know, the raw material of sheet metal processing industry is steel, which will be deformed by external force and heating during the process of feeding, processing and welding. For example, if you are not experienced enough when welding sheet metal, you may not be able to grasp the direction and strength of the process, which may cause deformation. The reasons are summarized in the following four categories, and we will take you through them together!
1. Deformation of raw materials. If the raw materials are stacked in the wrong way during transportation or if they are crushed, it will lead to the deformation of the sheet metal;
2.the uneven heating will also make the plate in compression and extension will lead to deformation;
3.Deformation will also occur if the heated steel sheet is placed in a damp or watery place during the cooling process;
4. When the sheet metal parts are bent, the holes on the workpiece will be easily deformed. In this case, a pockmark pattern should be added on the top sheet to increase the friction to prevent the workpiece from slipping when bending.
The above are the four causes of deformation that are easily caused by the sheet metal shell processing factory, Dongguan Jatong Precision Hardware Co. So we need to pay more attention when we do the processing in order to avoid the above problems and try to improve the quality of our products and present better products for our customers!
Custom Metal Box Manufacturers | Custom Sheet Metal Enclosures | Custom Aluminum Box | Custom Sheet Metal Boxes | Custom Metal Boxes | Sheet Metal Supplier | Steel Box Manufacturers | Sheet Metal Box Manufacturers | Custom Made Metal Boxes | China Sheet Metal Manufacturer | Outdoor Vending Machine Enclosures | Industrial Machine Enclosures | Metal Enclosures for Electronics | EV Charger Outdoor Enclosure | Outdoor EV Charger Enclosure | EV Charger Enclosure | Custom Aluminium Box | Custom Steel Box | Metal Box Supplier | Metal Enclosure Manufacturer | Sheet Metal Enclosure Manufacturers | Metal Enclosure Box Manufacturer | Metal Enclosure Manufacturer | Aluminium Box Manufacturer | Outdoor Equipment Enclosures | Aluminium Box Manufacturers | Equipment Enclosures Metal | Metal Enclosure Box | Metal Enclosure | Enclosure Box Price | Sheet Metal Manufacturers | Sheet Metal Manufacturing companies | Custom Made Aluminium Boxes | Custom Made Metal Box | Aluminum Sheet Metal Fabrication | Aluminium Sheet Metal Fabrication | Auminium Tool Boxes Made to Order | Custom Metal Enclosures | Custom Stainless Steel Box | Custom Made Aluminum Boxes | Metal Box Manufacturers | Custom Steel Enclosures | Custom Stainless Steel Enclosures | Custom Metal Box | Custom Aluminium Box | Sheet Metal Fabrication Supplier | China Sheet Metal Fabrication | Custom Sheet Metal Fabrication | Sheet Metal Fabrication Services | Metal Manufacturing in China | Aluminum Box Fabrication | Sheet Metal Box Fabrication | Sheet Metal China | Precision Sheet Metal Fabrication | Custom Aluminum Box Fabrication | Custom Metal Box Fabrication