How to Deal with Sheet Metal Shell Paint Marks?
Nowadays, the application of sheet metal shell processing parts has become more and more extensive, among which, painting is a process that we all involve. However, due to the different uses and needs of products, the treatment of painting traces in the process of sheet metal shell processing varies from manufacturer to manufacturer. The following is a brief introduction to the treatment of paint traces in the processing of sheet metal shells: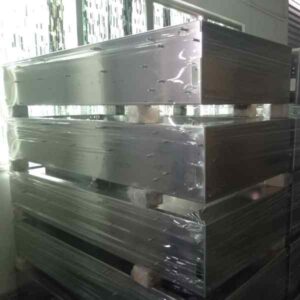 Problem 1: The top coat around the trimmed part of the sheet metal shell processing bulges into a ring shape.
Prevention: The sheet metal enclosure is processed by sanding the repaired part until the metal layer is exposed. Perform a solvent test using thinner at the edge of the exposed paint layer; if the paint is soft, this layer must be sealed. Atomic ash and eye filler ash should only be used on the exposed metal and not over the original paint surface. Select the appropriate sandpaper. Make sure that all preparatory materials are completely dry.
Remedy: After the sheet metal shell repair material has dried, grind down the damaged part, then isolate it with priming material and repaint.
Problem 2: There are some dots protruding from the surface of the sheet metal shell fabrication.
Prevention method: Sheet metal shell fabricators make sure that all preparation materials are dry. Carefully clean the substrate with a silicone-removing cleaner. The polyester material should be isolated before spraying the top coat.
Remedy: Sand the defective area and repaint the sheet metal shell afterwards.
In summary, this is how to deal with paint marks when processing sheet metal shells. With the above, we can deal with paint marks well for the problems that arise, thus ensuring that the sheet metal shell processing parts can get a good painted appearance.
Custom Metal Box Manufacturers | Custom Sheet Metal Enclosures | Custom Aluminum Box | Custom Sheet Metal Boxes | Custom Metal Boxes | Sheet Metal Supplier | Steel Box Manufacturers | Sheet Metal Box Manufacturers | Custom Made Metal Boxes | China Sheet Metal Manufacturer | Outdoor Vending Machine Enclosures | Industrial Machine Enclosures | Metal Enclosures for Electronics | EV Charger Outdoor Enclosure | Outdoor EV Charger Enclosure | EV Charger Enclosure | Custom Aluminium Box | Custom Steel Box | Metal Box Supplier | Metal Enclosure Manufacturer | Sheet Metal Enclosure Manufacturers | Metal Enclosure Box Manufacturer | Metal Enclosure Manufacturer | Aluminium Box Manufacturer | Outdoor Equipment Enclosures | Aluminium Box Manufacturers | Equipment Enclosures Metal | Metal Enclosure Box | Metal Enclosure | Enclosure Box Price | Sheet Metal Manufacturers | Sheet Metal Manufacturing companies | Custom Made Aluminium Boxes | Custom Made Metal Box | Aluminum Sheet Metal Fabrication | Aluminium Sheet Metal Fabrication | Auminium Tool Boxes Made to Order | Custom Metal Enclosures | Custom Stainless Steel Box | Custom Made Aluminum Boxes | Metal Box Manufacturers | Custom Steel Enclosures | Custom Stainless Steel Enclosures | Custom Metal Box | Custom Aluminium Box | Sheet Metal Fabrication Supplier | China Sheet Metal Fabrication | Custom Sheet Metal Fabrication | Sheet Metal Fabrication Services | Metal Manufacturing in China | Aluminum Box Fabrication | Sheet Metal Box Fabrication | Sheet Metal China | Precision Sheet Metal Fabrication | Custom Aluminum Box Fabrication | Custom Metal Box Fabrication