What are the Advantages and Disadvantages of Hot Rolling and Cold Rolling?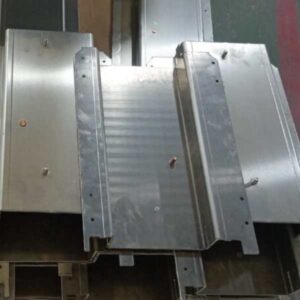 Hot rolling: ingots or billets at room temperature is difficult to deform, not easy to process, generally heated to 1100 ~ 1250 ℃ for rolling, this rolling process is called hot rolling. The termination temperature of hot rolling is generally 800 to 900 ℃, after which it is generally cooled in air, and thus the hot rolling state is equivalent to normalizing treatment.
Advantages: fast forming, high yield, and do not damage the coating, can be made into a variety of cross-sectional forms to meet the needs of the conditions of use; cold rolling can make a large plastic deformation of steel, thereby increasing the yield point of steel.
Disadvantages: residual stresses still exist in the cross-section, which must have an impact on the overall and local buckling characteristics of the steel; the free torsional stiffness of the cross-section is low;
Cold rolling: refers to cold rolling with hot rolled steel coil as raw material at room temperature, after pickling to remove oxidation skin for pressure processing, the finished product is rolled hard coil. Although the process also heats up the steel sheet, it is still called cold rolling. General cold-rolled steel such as galvanized, color steel sheet must be annealed, so plasticity and elongation is also better, widely used in automotive, home appliances, hardware and other industries.
Advantages: It can destroy the casting organization of the ingot, refine the grain of steel, and eliminate the defects of microstructure, so that the steel organization is dense and the mechanical properties are improved. This improvement is mainly reflected along the rolling direction, so that the steel is no longer isotropic to a certain extent; bubbles, cracks and looseness formed during casting can also be welded together under the action of high temperature and pressure.
Disadvantages: After hot rolling, non-metallic inclusions inside the steel (pressed into thin sheets, the phenomenon of delamination; uneven cooling caused by residual stress, residual stress, although self-phase equilibrium, but the performance of steel members under the action of external forces still have some impact. Such as deformation, stability, fatigue resistance and other aspects may have a negative effect.
To sum up: The main difference between cold rolling and hot rolling is the temperature of the rolling process. "Cold" for room temperature, "hot" for high temperature.
Custom Metal Box Manufacturers | Custom Sheet Metal Enclosures | Custom Aluminum Box | Custom Sheet Metal Boxes | Custom Metal Boxes | Sheet Metal Supplier | Steel Box Manufacturers | Sheet Metal Box Manufacturers | Custom Made Metal Boxes | China Sheet Metal Manufacturer | Outdoor Vending Machine Enclosures | Industrial Machine Enclosures | Metal Enclosures for Electronics | EV Charger Outdoor Enclosure | Outdoor EV Charger Enclosure | EV Charger Enclosure | Custom Aluminium Box | Custom Steel Box | Metal Box Supplier | Metal Enclosure Manufacturer | Sheet Metal Enclosure Manufacturers | Metal Enclosure Box Manufacturer | Metal Enclosure Manufacturer | Aluminium Box Manufacturer | Outdoor Equipment Enclosures | Aluminium Box Manufacturers | Equipment Enclosures Metal | Metal Enclosure Box | Metal Enclosure | Enclosure Box Price | Sheet Metal Manufacturers | Sheet Metal Manufacturing companies | Custom Made Aluminium Boxes | Custom Made Metal Box | Aluminum Sheet Metal Fabrication | Aluminium Sheet Metal Fabrication | Auminium Tool Boxes Made to Order | Custom Metal Enclosures | Custom Stainless Steel Box | Custom Made Aluminum Boxes | Metal Box Manufacturers | Custom Steel Enclosures | Custom Stainless Steel Enclosures | Custom Metal Box | Custom Aluminium Box | Sheet Metal Fabrication Supplier | China Sheet Metal Fabrication | Custom Sheet Metal Fabrication | Sheet Metal Fabrication Services | Metal Manufacturing in China | Aluminum Box Fabrication | Sheet Metal Box Fabrication | Sheet Metal China | Precision Sheet Metal Fabrication | Custom Aluminum Box Fabrication | Custom Metal Box Fabrication