What is the Difference between Paint Spraying and Powder Coating?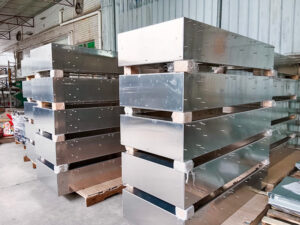 In the sheet metal manufacturing industry, many people confuse painting and powder coating with each other, but in fact the two are different processing techniques.
The first difference is in the material used. Paint spraying process uses liquid paint, which is mounted on a special coating device, and then the paint is sprayed onto the workpiece using a spray gun to make it heated and cured, which is a natural physical process, while powder spraying process uses solid powder paint, which is electrostatically treated and then sprayed onto the surface of the workpiece, and then cured at high temperature to form a solid coating.
Secondly, the difference in the appearance of the processing process, the use of spray processing process appearance can be high-gloss, orange grain, scrubbing and other effects, while the spray paint can not be achieved, and spray paint will appear to flow the phenomenon of easy to cause the appearance of the craft is not beautiful.
Once again is the difference between the health hazards and air pollution, spray painting is generally operated in the air, making the concentration of benzene in the air is relatively high, causing adverse effects on the physical and mental health of the operator, long-term exposure to this substance will cause chronic poisoning, if inhaled into the lungs will cause serious damage to the internal organs of the human body, so some sheet metal spray paint processors will generally make sure that workers wear protective clothing in order to carry out Therefore, some sheet metal spray paint processors generally make sure that workers wear protective clothing before they can carry out their work, while spraying powder is much safer than painting, but it is also necessary to wear a good protective mask and protective clothing to reduce unnecessary hazards.
Custom Metal Box Manufacturers | Custom Sheet Metal Enclosures | Custom Aluminum Box | Custom Sheet Metal Boxes | Custom Metal Boxes | Sheet Metal Supplier | Steel Box Manufacturers | Sheet Metal Box Manufacturers | Custom Made Metal Boxes | China Sheet Metal Manufacturer | Outdoor Vending Machine Enclosures | Equipment Enclosures | Machinery Enclosures | Machine Enclosure | Machine Enclosures | Industrial Machine Enclosures | Metal Enclosures for Electronics | EV Charger Outdoor Enclosure | Outdoor EV Charger Enclosure | EV Charger Enclosure | Custom Aluminium Box | Custom Steel Box | Metal Box Supplier | Metal Enclosure Manufacturer | Sheet Metal Enclosure Manufacturers | Metal Enclosure Box Manufacturer | Metal Enclosure Manufacturer | Aluminium Box Manufacturer | Outdoor Equipment Enclosures | Enclosure for EV Charger | EV Charging Enclosure | EV Charger Enclosure | Aluminium Box Manufacturers | Equipment Enclosures Metal | Sheet Metal Enclosure | Metal Enclosure Box | Metal Enclosure | Enclosure Box Price | Sheet Metal Manufacturers | Sheet Metal Manufacturing companies | Custom Made Aluminium Boxes | Custom Made Metal Box | Aluminum Sheet Metal Fabrication | Aluminium Sheet Metal Fabrication | Auminium Tool Boxes Made to Order | Custom Metal Enclosures | Custom Stainless Steel Box | Custom Made Aluminum Boxes | Metal Box Manufacturers | Custom Steel Enclosures | Custom Stainless Steel Enclosures | Custom Metal Box | Custom Aluminium Box