How is the Production Process of Sheet Metal Parts?
The process of making sheet metal parts is as follows.
In which calculating the unfolded length is an important element. We have to consider the unfolded coefficient of different materials comprehensively when calculating the unfolded length.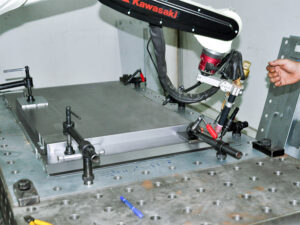 Bending, we can choose the suitable bending tool according to the drawing requirements.
Machining, the main purpose of mechanical processing is to process the features that cannot be made by the two processes of undercutting and bending, and we can only complete these processes after bending.
surface treatment, mainly according to the customer's drawing requirements for parts surface treatment, common surface treatment are brushed, painted, oxidation and so on.
Packing and shipping, after the finished parts are finished, we will make the final measurement and inspection of all the parts. The main purpose here is to check the quality of the appearance. There are no paint defects, no surface quality problems, etc. Dimensional measurements are also the final calibration and inspection.
Custom Metal Box Manufacturers | Custom Sheet Metal Enclosures | Custom Aluminum Box | Custom Sheet Metal Boxes | Custom Metal Boxes | Sheet Metal Supplier | Steel Box Manufacturers | Sheet Metal Box Manufacturers | Custom Made Metal Boxes | China Sheet Metal Manufacturer | Outdoor Vending Machine Enclosures | Equipment Enclosures | Machinery Enclosures | Machine Enclosure | Machine Enclosures | Industrial Machine Enclosures | Metal Enclosures for Electronics | EV Charger Outdoor Enclosure | Outdoor EV Charger Enclosure | EV Charger Enclosure | Custom Aluminium Box | Custom Steel Box | Metal Box Supplier | Metal Enclosure Manufacturer | Sheet Metal Enclosure Manufacturers | Metal Enclosure Box Manufacturer | Metal Enclosure Manufacturer | Aluminium Box Manufacturer | Outdoor Equipment Enclosures | Enclosure for EV Charger | EV Charging Enclosure | EV Charger Enclosure | Aluminium Box Manufacturers | Equipment Enclosures Metal | Sheet Metal Enclosure | Metal Enclosure Box | Metal Enclosure | Enclosure Box Price | Sheet Metal Manufacturers | Sheet Metal Manufacturing companies