Do EV Charger Enclosure need Ventilation?
EV charger enclosure typically require ventilation to dissipate heat generated during operation. Charging an electric vehicle can generate a significant amount of heat, and if this heat is not dissipated properly, it can lead to damage to the charger and potentially even a fire hazard.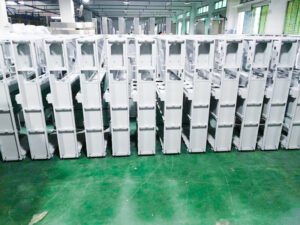 The amount of ventilation required depends on the specific EV charger enclosure and the location where it will be installed. In general, it's important to ensure that the EV charger enclosure is well-ventilated to prevent overheating. This can be achieved through the use of ventilation holes or fans built into the enclosure.
It's also important to ensure that the ventilation system is properly designed and installed to ensure effective heat dissipation. This may require working with a qualified electrician or HVAC specialist to ensure that the installation meets local codes and safety requirements.
In summary, proper ventilation is essential for the safe and reliable operation of EV charger enclosure. Be sure to consider ventilation requirements when choosing an enclosure for your EV charger, and consult with qualified professionals to ensure that the installation meets all safety and code requirements.
Custom Metal Box Manufacturers | Custom Sheet Metal Enclosures | Custom Aluminum Box | Custom Sheet Metal Boxes | Custom Metal Boxes | Sheet Metal Supplier | Steel Box Manufacturers | Sheet Metal Box Manufacturers | Custom Made Metal Boxes | China Sheet Metal Manufacturer | Outdoor Vending Machine Enclosures | Equipment Enclosures | Machinery Enclosures | Machine Enclosure | Machine Enclosures | Industrial Machine Enclosures | Metal Enclosures for Electronics | EV Charger Outdoor Enclosure | Outdoor EV Charger Enclosure | EV Charger Enclosure | Custom Aluminium Box | Custom Steel Box | Metal Box Supplier | Metal Enclosure Manufacturer | Sheet Metal Enclosure Manufacturers | Metal Enclosure Box Manufacturer | Metal Enclosure Manufacturer | Aluminium Box Manufacturer | Outdoor Equipment Enclosures | Enclosure for EV Charger | EV Charging Enclosure | EV Charger Enclosure | Aluminium Box Manufacturers | Equipment Enclosures Metal | Sheet Metal Enclosure | Metal Enclosure Box | Metal Enclosure | Enclosure Box Price | Sheet Metal Manufacturers | Sheet Metal Manufacturing companies